Depending on the current stage/strength of your startup, you can choose to either join an Incubator or an accelerator. Before you begin to look here and there for what's what and which to go for. After that step back and read-on as we'll be taking a good look at what are Incubators & Accelerators.
What Are Incubation Centers?
New entrants in the market tend to struggle which is why we have incubation centers. A business incubator is a company that helps new startup companies. They help in providing office space, business insight and management training to startups.
Functions of Incubation Centers
The first step is how to pitch your ideas to startup incubators who then might or might not adopt it for taking it further. They provide an environment where mentors meet aspiring business owners and fine-tune their ideas into a shape suitable for the market space. If the idea already exists, then loopholes in services are to bring a new-and-improved version. Thus, they are launchpads that help all plans take off.
In the process of creating an offering incubation, centers enable crucial networking. This is perhaps one of the most important contributions incubators can make. Networking opens opportunities to meet suppliers, potential distributors and even make. Mentors who have survived the marketplace can introduce the right people for the right team and idea.
At times, incubators contribute a small sum of funding to get the operations going to companies that exhibit the most promising chances of success in the future. Government grants or university programs usually fund them. This money is towards achieving important initial milestones like gaining first customers, having online existence etc.
Accelerators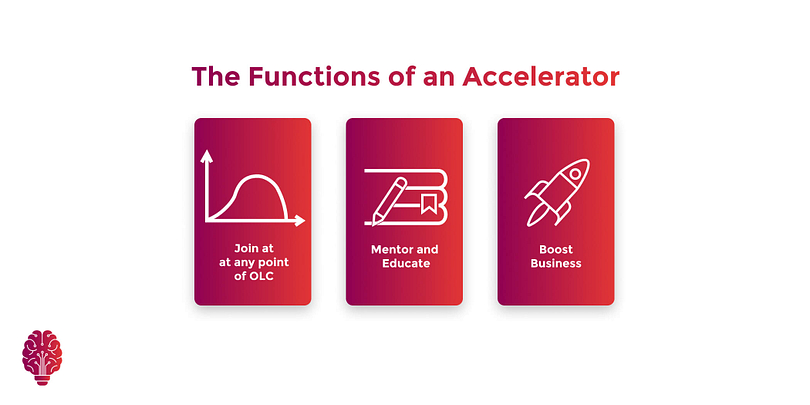 Where businesses tend to join incubators at the very start of their operations, accelerators are institutes where entrepreneurs can bring their work to at slightly later stages of the organizational life cycle. The course of learning is for a certain period of time in a shared space with other aspiring entrepreneurs.
This creates an overall environment of learning, knowledge building to help businesses catapult their efforts in the right direction. 
This gains newer perspectives for startups to boost the business activities at times when the company feels halted at one stage for long with no stagnating prospects of growth. When companies come to accelerators, completed at the brink of launching a product and want to hit all the right marks with their new offering. Hence, years of hit-and-trials faced by mentors converts into tips and tricks for those joining accelerators.
Accelerators open the way for VCs (Venture Capitalists) to meet businesses with promising ideas as well. Accelerators invest money in exchange for a percentage of equity; this is different from funding gained in incubators which are not for exchange for ownership.
A Few Leading Examples
Following are few examples of well-known incubators worldwide:
Y Combinators, USA.
500 Startups, USA.
Metavallon, Greece.
Techstars, USA.
Seedcamp, UK.
To read more about these centers and other market leaders, check out our article on the Incubators and Accelerators Around the World
Benefits Of Incubators And Accelerators
Provide a Learning Environment
Incubators and Accelerators create an environment that is conducive to learning and growth. Participants from varying backgrounds bring individual ideas to the floor which boosts creativity. Mentors play a major role in providing knowledge that equips entrepreneurs to take the wheel of their business ventures and drive the startups towards new heights.
Crucial Networking 
Through this, new-comers or even those who have been in the market for a while, get to meet new potential players of the industry. New contacts may lead to them forming partnerships, meeting supply chain contributors and basically form footprints in social circles of the marketplace.
Positive Image Building
If your startup is brought up under the guidance of a mentor who is thought of to be a credible authority in the market, then it gains the company major points. A general word spreads around attracting more talent towards the venture. What makes investors more interested is if the mentor is known to grow profitable businesses.
Potential Downsides Of Incubators And Accelerators
Lost Focus
If all the program does is talk about aspects of business theories then the months you fixed into the accelerator program is a waste of time. Knowledge must be cut-out according to the nature of individual businesses so it is more action-driven rather than redundant theories.
So many tips and tricks might fly around from various mentors and teams that a company finds itself more lost than it originally was by the end of the duration. Hence, if some incubators provide the right direction, others drop you in uncharted waters with no guiding light in sight for the future.
Extremely Competitive Admissions
Getting accepted into a center is a complete task on its own. A lot of first timers do not get the pitch right in the first try. So, they go over their offering again and again to gain admission into one of these. Thus, time that could have otherwise been invested in building the business, is spent in getting into a program which might or might not prove fruitful at the end of the day.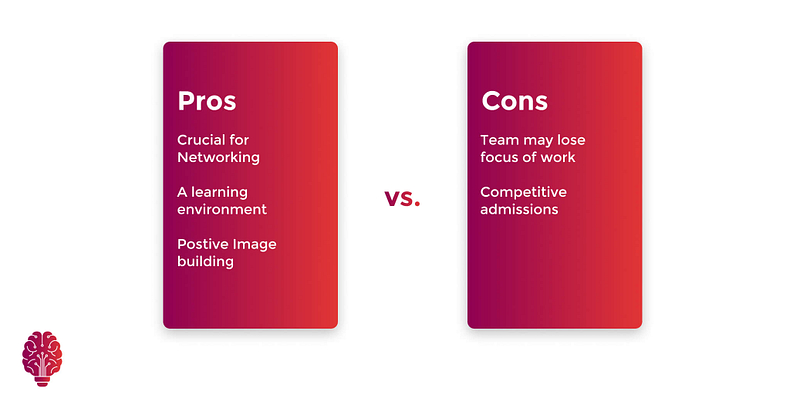 Success Stories
AirBnB:

Y Combinator

in the US has powered over 1000 startups, this

accelerator has given them the necessary boost to become global giants

. AirBnB is a leaf in their deck of successes. It is a rental network that connects peers with accommodation with those looking for places to stay. Founded in 2008, it is now worth billions of dollars with operations in 191 countries around the world.

Udemy:

The portal attracts millions of students from all ages and different walks of life. Like every business, Udemy also started with a basic idea at

500 Startups

in the United States

. It has brought education to every house from

top institutes and educationists around the globe.
So, What's For You?
Incubators and Accelerators are schools for businesses in different phases of their life-cycle. You can get to learn ways to achieve success and minimize rates of failure by incubators. In a lot of cases they have nurtured companies worth billions of dollars whereas in other cases they might have hindered growth of what could have been a disruptive idea.
The rule of thumb of incubators generally says that if you're just getting started with your company, incubators are the way to go. Whereas, if you're some way into your journey as an entrepreneur, accelerators might be more suited for you.
In the end, It all falls down to prioritization and informed judgement on the part of entrepreneurs to pick programs with renowned mentors and best practices in the industry. Otherwise, time lost in centers could pull the plug of the brightest ideas.