"We must learn what customers really want, not what they say they want or what we think they should want."
–Eric Ries 
Really spun your head there, didn't you? Don't worry. We will start from the top to the very advent of Minimum Viable Product or an MVP as we attempt to understand the idea behind them.  
Imagine a shoe store with no shoes. Yes, you read that right. That is exactly what Zappos was the first time the idea of an online shoe retailer was born in the mind of Nick Swinmurn. One day, when he couldn't find a pair of shoes he was looking for at the mall, he thought of an idea to sell shoes online. If that seems simple, wait till you read what happened next.
He took pictures of shoes and posted them on his basic website. When someone ordered a particular pair, he would go to the mall, purchase it and ship it under Zappos. Thus wise, an idea was validated and an online retail giant was born that would revolutionize the idea of buying shoes; online.
The buying trends and preferences of early adopters shaped the way Zappos was eventually built.  Something like this is what Eric Ries would refer to as Validated Learning. To understand what it is, we will go back to the start. 
In 2009, entrepreneur, blogger and author Eric Reis wrote about the Minimum Viable Product in his famed book The Lean Startup. The book not only became a guiding light for Startups but was also a breath of fresh air in the world of modern entrepreneurship. Through years of providing guidance and advocating for the concept of Lean Startups, he was able to make concepts such as Agile Software Development, MVP and Lean Organizations a commonplace.
What Is An MVP And How It Works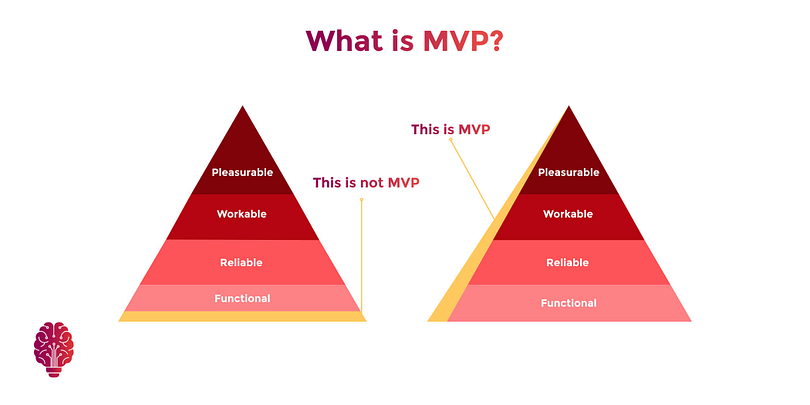 Developing an MVP means launching your product with few of the most basic features, to test for usability and desirability. It needs to be stressed that the product not only needs to be minimal but it must also be viable. What does that mean, you ask?
Imagine you run a doughnut baking business and you're interested in knowing what sort of doughnuts your buyers would want to eat. Will you then start selling flour? Unbaked batter? Maybe not. Instead, a plain doughnut with glaze would work. Where it fulfills the basic purpose, it allows room for further feedback-based development.
The second step after preparing an MVP is to launch it into the market and gather feedback to build an MMP or Minimum Marketable Product which we've covered here. This part can be tricky. Companies might constantly ask themselves if the features that they have included will avert customers from the product. Most of the times, this is what happens. But for others, early adopters do not mind missing features, as long they like the idea(s) the product represents giving it initial success.
Moreover, another upside is that an unfinished product will help customers realize what features they want to add. In a situation where the MVP you launched is exactly what the market wanted, time and resources are saved that would have gone into improving your MVP iteratively.
This MVP launch produces valuable data that aids Validated Learning of customer preferences, untapped needs and market trends. A major point to note is that when you're developing an MVP, be prepared to iterate over and over till you get it just right.
Obtaining feedback, making relevant changes and moving the product into the market and create a release early, release often (RERO) loop that will revolutionize by cutting it just the way your customers want it.
Purpose Of A Minimum Viable Product
A very common question that arises is that if we believe customers will dislike our initial iteration of the product, why launch it in the first place? Why not wait and finish it completely before launching it into the market? 
Let's take a trip back to 2013 when Social media influencers were promoting Segways and we became witness to the company's farsighted marketing strategies. Not only this, the product featured in a popular Hollywood Movie franchise as well. Overall, the entire campaign made the product seem like a fun idea but people did not really see the use especially at that cost. 
So, major takeaways from this example? You can create an entire product that will idly suit the current trends (In Segway's case maybe it was people being rampantly lethargic). On top of that, you can splurge-on massive marketing campaigns but at the end of the day it all falls to one thing: Need. Do the customers really need it? 
Need is exactly what an MVP can gauge. With each iteration, the product undergoes a cycle of development that inches it closer to the idol product that the end-user needs and wants. A product which is viable. The first iteration paves the way for more discovery of what customers require, something that they might not know themselves in the beginning.
What Are MVP's Goals?
The discussion inherently reaches the question of what exactly are we trying to achieve with all these iterations and plethora of data that represents customer feedback? The answer is what we categorize as the crucial takeaways of the MVP: 
Rule One: Find the balance
Companies iterate the process of feedback and development to find the balance between what your capabilities are as someone developing a product and what the customer demands in the product that you're offering. If your strengths do not match the demands then it might be time to either upgrade over even pivot. 
Rule Two: Develop focused features
One of the major goals of this entire process is to minimize the amount of effort that goes into building what's good enough for an MVP. Along with that, we want to curb the number of extra features we offer in the product that might not end up getting noticed or valued and those shouldn't even be our focus in the beginning anyway.
Rule Three: Minimize potential of failure
By developing a product in iterations, taking onboard customer's views into account at each step, you're reducing the probability of failure. If a certain feature does not work or is not present at all, it can be added in the next iteration rather than creating a final form and realizing that the whole concept just does not work out. For the latter case, customers might not fully know why they do not like it either. 
Advantages And Disadvantages Of MVPs
Developing an MVP is a smart way for Startups, because it requires relatively less resources than all-out Waterfall Development. You push out basic feature(s) that save both time and money. 
On the other hand, the success of this process is hinged with sophisticated techniques of probing and then practically implementing the customer feedback data collected. If the data does not prove to be useful or is inaccurately collected, the entire effort may be misdirected. Also, this idea of iterating again and again can be a cumbersome at times. But remember, iterating again and again is a MUST.

Why Do Some MVPs Still Fail?
One of the major reasons why MVPs have been reported to have failed is because the MVP is either not minimal, nor viable and sometimes not even a product that's needed.
In the initial stages, companies need to ensure that the features that they are offering cater to a market NEED. When your MVP lands in the hands of a user, it should feel like a product that attempts to provide value however minimal. Hence, it is imperative that all three requisites of minimal, viable and initial-product be fulfilled. 
Another common reason is ignoring customer feedback and making yourself the boss. The main purpose for embarking upon this journey is to gain actionable, timely data that can directly be used to shape an offering exactly cut-out for customer needs. If this is ignored entirely, you're already plunging yourself to failure. 
Furthermore, for any product if you get your target audience wrong, then you might be hitting your darts in an entirely wrong direction. The Early Adopters of an MVP will only be accommodating if they really are gaining some sort of benefit at the end of the day. For a customer who has no use of what's on offer, all stages of your probable product will be a step towards inevitable failure.
What Comes Next?
MVP is a representative of the basic idea behind a specific product. It undergoes iterations for further development till it can be regarded as a Minimum Marketable Product (MMP). This version is what you think is marketable because at least one of its features tends to the needs of the customer. In the process of going from an MVP to a product, more terms such as MMF and MMR are many a times part of the journey. More on these stages will be revealed in the coming article, so keep reading and keep learning!
Minimum Viable Products are a step towards a smarter organization with a vision to reduce clutter in their products and offering just the value that is required. There is open space for development, led by data that is representative of the actual pulse of the market.
Does it ensure success? Maybe, maybe not. But, it puts up a strong case in the favor of informed decision making and as someone who knows Product, MilestoneZero is there to develop and iterate your ideas into successful, needed products.