In the first leg of the two-legged series 20 Must Visit IT And AI Events Around The World we enlisted some of the biggest, most exciting IT events that take place around the year around the globe.
Similarly industry giants summon experts, scientists, corporate leaders, product developers and tech enthusiasts to celebrate Artificial Technology with its branches. These are a spectacle to behold for all those affiliated; with businesses exhibiting some of their most innovative works for the future of tech companies. Business magnates, engineers take note of everything new and shiny that could further what progress the world has made with regards to AI.  
Following is a list of some of the significant AI Conferences and Trade shows that dominate the scene: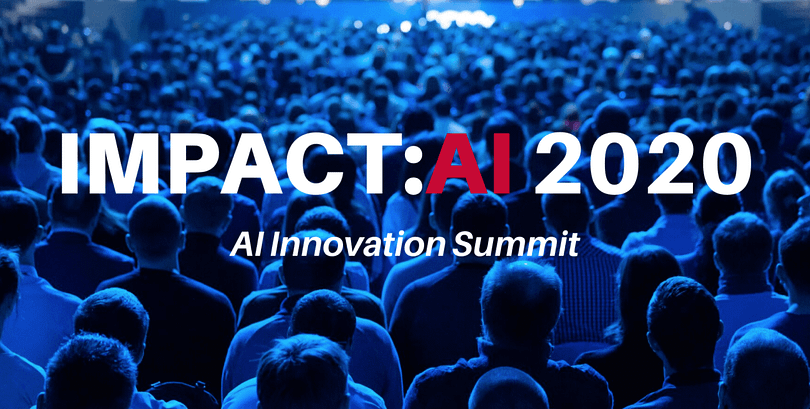 Dates: Tentatively in February every year.
Location: San Francisco, United States.
For the past 10 years, Impact has striven to make Artificial Intelligence a commonplace by building collaborations between engineers, the business world and opinion leaders. Evangelists from the fields of Data Science, Machine Learning, product development and Artificial Intelligence come under this banner to discuss the most innovative applications of the tech industry.
Not only this, but there are efforts to make use of these fields in a safe and responsible way. The conference comprises two days full of thought-sharing, case studies and determination of best practices with influential leaders from around the world.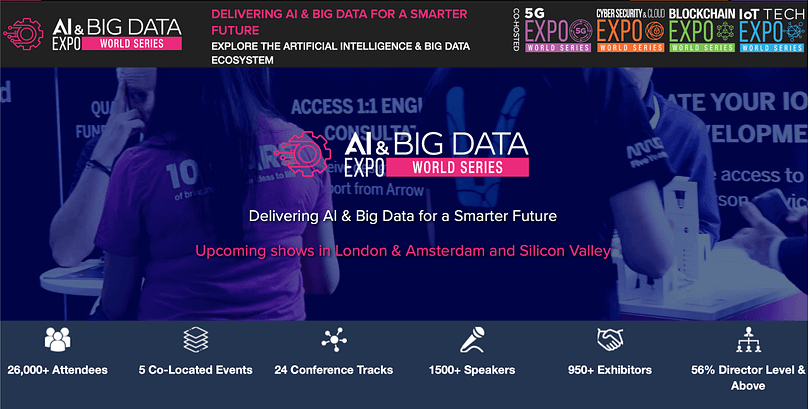 Dates: Tentatively in March every year.
Location: Olympia, London, UK.
AI & Big Data Expo is a gathering of more than 26,000 participants and 1500 speakers in the World Series to showcase enterprise technology and strategy. The concerned areas of technology are:
Artificial Intelligence

Product development

Internet of Things sector

the Blockchain Expo

the 5G Expo

Cyber Security and Cloud Expo
The conference brings together renowned c-suite executives and AI evangelist speakers from leading international tech enterprises to share their experiences of employing the technology creatively as well as responsibly.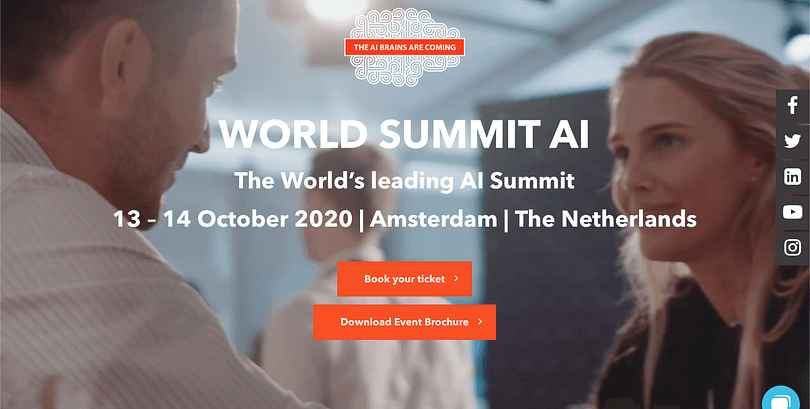 Dates: Around October each year.
Location: Amsterdam, The Netherlands.
According to Accenture:
WSAI is the leading event in the world for the whole AI ecosystem.
The mammoth events organized under the brand host more than 6000 attendees and 250 speakers from around 160 countries. Ideas and innovative tech are brought from all corners of earth under one roof to discuss ways in which AI could be capitalized while keeping check on its overall effects on humanity.
For two days straight, Enterprise, Startups, Investors and Deep Tech share one space so knowledge sharing goes hand-in-hand with crucial network-building. This is particularly important for startups who are looking for ways to carve their footprints on the world stage.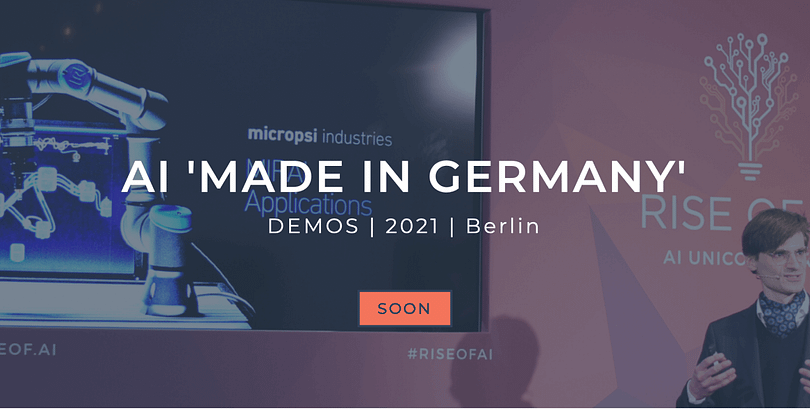 Dates: Tentative dates in May each year.
Location: Berlin, Germany.
With more innovative technology comes increasing responsibility for the tech world to employ tech in a harm-free way. Which is why, at every step of the way its impact upon larger society must be critically analyzed. 
For the last 6 years, Rise of AI plays host to more than 3000 participants and 300 companies to study the direction of growing capabilities, while also scrutinizing their impact upon economy, politics and the society. What started as a group of 10 people is now regarded as one of the biggest tech events on AI in Europe. Ki Park and IBM are two renowned partners of the organization.
Dates: Tentatively in January every year.
Location: Santa Clara, California, United States.
The conference is 3 days of case studies, presentations, workshops, tutorials, and training sessions in the field of Artificial Intelligence. Past attendees have regarded it as a highly interactive event full of panel discussions, extended Q&A sessions and in-depth case study analyses and product development. More social events such as these enable participants to meet new people and widen their network in the tech industry. 
Corporate representatives from global giants are invited as speakers to share their bit on incentivizing AI in enterprise solutions to reduce costs and multiply profits. AI Engineers, Data Scientists and Analysts announce the creation of better tech applications that will benefit enterprises and society alike.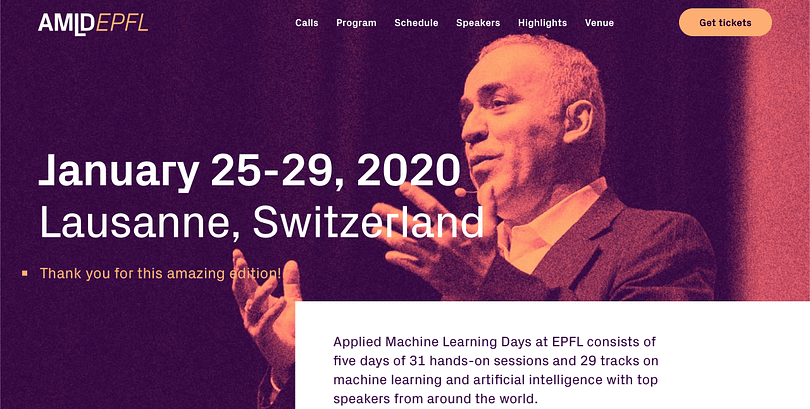 Dates: Tentatively at the end of January.
Location: Lausanne, Switzerland.
The AMLD Conference consists of five days of 31 interactive, hands-on sessions and 29 tracks all based on product development, Artificial Intelligence and Machine Learning. For new and promising tech startups in AI and IT domains, 2020 housed a separate session featuring their work. Moreover, experts shared their experiences on the rights and wrongs of starting up in the tech industry. This gave small scale companies a chance to introduce themselves to investors, potential partners and the larger public. 
So if you're in the relevant field and want to indulge with maestros in the AI industry, plan a trip to this event for networking and knowledge-building. This is a must attend event for all tech start-ups.
Dates: Tentatively around November each year.
Location: Seattle, Washington, United States.
AI for Good Summit aims to use a computer's abilities to adopt human intelligence for the good of the society. The growing pace of AI application usage around a common man requires a body of responsible technicians, evangelists to track its usage to keep it safe and ethical. This event is a gathering of one such body of people. 
Each year the banner gathers experts to talk about ways to aid fulfillment of United Nations' Sustainable Development Goals with the help of AI. Their goals encompass the following fields: 
Commerce

Migration

World Hunger

Poverty etc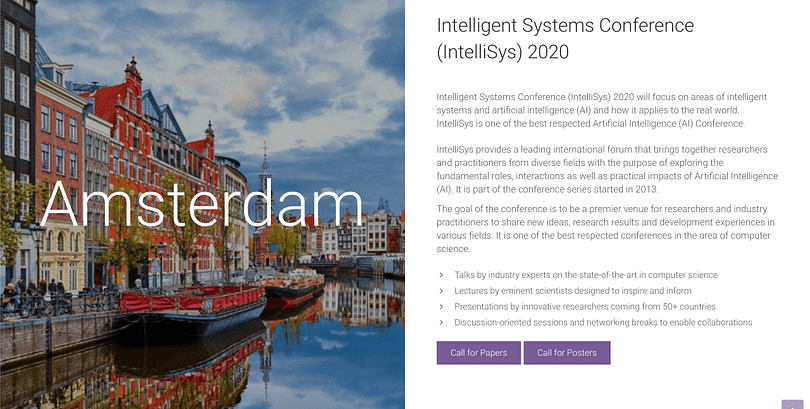 Dates: Tentatively around September each year.
Location: Amsterdam, The Netherlands.
An audience from more than 55 counties gathers to witness presentations, participate in interactive discussions and attend lectures by notable scientists for the future of AI and IT. The main tracks of this conference are: 
Robotics

Artificial Intelligence

Ambient Intelligence

Machine Vision
For the last seven years, pioneers of this conference have gathered stakeholders to bring these technologies reachable for common people. Emphasis is placed on applicability and usability of new tech products so that it can work towards making lives easier.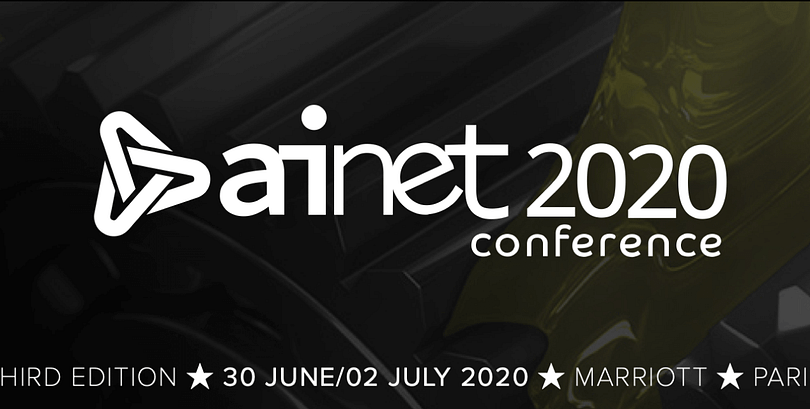 Dates: Tentative dates around November each year.
Location: Paris, France.
Hosts of this notable event claim to have hosted delegates from more than 75 countries in previous summits. Primary subject(s) under discussion are Operational Networks, with use of AI in the telecom sector among others.
The summit covers tutorials on Machine and Deep learning techniques applied to network data. In addition to this, a number of informative sessions designed to expand the scope of knowledge in the field of AI and ML in Network operations.
Dates: Tentatively around June each year.
Location: London, United Kingdom.
In what is perhaps one of the most forward-thinking tech conferences around the world, CogX is a hub for more than 3000 participants to discuss the future of AI. To plan for the next 10 years, discussions are held to plan application of the future of technology in the following fields: 
Fintech

Web 3.0

Health

Economy and Future of Work

HR and Ed Tech and so many more! 
Thus, making it an all-encompassing stage for stakeholders from a diverse range of industries to meet at a point to see where technology is taking their line of work next.
So, Interested In AI? 
If you are a scientist, businessperson, product developer, hopeful entrepreneur and/or an enthusiast of the aforementioned fields, these events are just the place for you! They provide a great opportunity to meet new people in the tech industry or even meet those from completely different fields of work.
The experiences, knowledge and skills learnt at these conferences are known to be unmatched. So if you think your employees and company could benefit from these, pick your event and mark your place in the global race for excellence in the world of AI. For if nothing else, these conferences are the best place to network which pays huge dividends without even you knowing about them.
Postscript: The dates mentioned in the article above are tentative. Event pages were used as reference, which are subject to change under crucial circumstances.